Service Project Archive
Senior Project 2016
The Brady Sixes' final project, conceived in the sophomore year and brought into life the senior year, identified the community they wanted to serve as individuals with cognitive disabilities in Evanston and its surround. Through two primary partnerships with Our Place and with Evanston Township High School's  (ETHS) Transition House, local organizations that provide support and life skills training to individuals with cognitive disabilities, Brady Scholars volunteered and socialized with our target population, created a social enterprise business, developed partnerships between these organizations and NU student groups through the NviteU program, and created a life skills curriculum in partnership with NU student groups to be implemented at Our Place and the Transition House. This process took the seventeen Brady Sixes to all corners of the world and to all corners of our Evanston home base. Meetings with community partners, in small groups, and during class period served as opportunities for collaborative brainstorming as well as disagreement.
Senior Project 2015
The Class of 2015 identified the problem of youth homelessness in the Evanston community as one they wished to address in their Senior Project. They focused on supporting the launch of Our House, a pilot project of Connections for the Homeless and Curt's Café.
Our House's mission is to create a family home for at­risk young adults in Evanston, aged 18­23, who do not have stable housing. The home will provide around the clock supervision and secure shelter.  The goal is to provide support tailored to each resident's specific needs, to help them learn skills they will need to, one day, own their own homes or apartments after leaving the program, and to be capable of supporting themselves and functioning in society as productive members. By building relationships with the house parent, staff members, and volunteers, the young men will develop social, emotional, and financial skills in the transition to an independent future. While starting small, the hope is to replicate the Our House model to take care of larger numbers of homeless youth in our community.
The seniors worked to develop and expand Our House's presence within the Evanston/Skokie community.  They designed and developed an Our House logo, a website, and secured the basic domain ourhouseevanston.org. They integrated social media into the site, included a link for online giving, and taught staff at Our House how to maintain the site, long term.
Brady Seniors developed a brochure highlighting the benefits of providing transitional housing to homeless youth, featuring the positive impact Our House has on these young adults.  These were distributed at events Brady Scholars hosted throughout the course of their project to raise awareness and discourse about youth homelessness and related structural issues in the Northwestern and Evanston communities. 
The students also raised funds and arranged for an advance screening of the The Homestretch, a film documenting the lives of homeless young adults in Chicago, slated for release in April, 2015.  The event was heavily publicized in the Evanston community and on the Northwestern campus. Evanston residents, and Northwestern students and faculty participated in a panel discussion following the film. Panelists were members of the homeless community, and those working to help homeless youth in Evanston.
Seniors hosted a final event in March that brought together three Northwestern professors from different disciplines for a conversation on youth homelessness. The purpose of this forum was to connect the practical elements of the Brady project to larger philosophical and structural issues.  The three Professors were Professor Charles Mills from the department of philosophy, Professor Alexander Weheliye from African American Studies, and Professor Dan Lewis, from the area of human development and social policy in SESP who has done extensive research on housing and homelessness in Evanston and the Chicago suburbs.
The issues discussed were the school to prison pipeline, the system of mass incarceration, representation in the media, segregation, and the differences in individualized versus structuralized approaches to social problems.  
Senior Project 2014
The Class of 2014 was interested in problems surrounding immigrant integration in the Evanston community.  They were concerned about the segregation and exclusion of certain immigrant groups due to language barriers, lack of access to work or education opportunities, and a general lack of awareness of the resources in the city that currently exist.
Brady '14 wished to create a bridge between immigrant groups and resources available to them in the City of Evanston. Their aim was to compose a comprehensive set of informational documents that would be useful for immigrants new to Evanston. Versions would exist in languages most commonly spoken by immigrant communities in Evanston.  If the task of multiple language translations proved unrealistic, they would provide Spanish translations, at a minimum, of all documents. The goal was to publish the information on the Evanston City website, and distribute hard copies to community centers located throughout Evanston.
Seniors met with leaders from community groups and organizations to discover what information was most important for immigrants to know.  What would help an individual feel included, to be active in and informed about the community?  Did this information already exist, and if so, where and in what languages?  What language sensitivities should they be aware of in translating these documents?  Representatives of Evanston Township High School, the Interfaith Committee for Detained Immigrants, and Open Communities – all familiar with the target consumer populations – shared their knowledge of existing resources that, otherwise, may have been difficult to locate.
Brady Scholars identified NU language departments, professors, and student groups as resources they could access.  Spanish translation was under the advisement of NU's Spanish Department, Latino Resources http://latinoresources.org/, Evanston Public Library, and the father of a Brady Senior, fluent in Spanish.
Flyers were printed and distributed to local organizations with immigrant communities.  Leaders of the organizations would provide flyers to members, as appropriate.  Materials were also made available on the City of Evanston website, allowing people to access them without having to travel to a community center.
The seniors found the work they did on these documents reflected the mission and goals of the Brady Scholars program.  In their aim to create something sustainable, they were forced to research and understand the greater Evanston community of which they are a part.  This inspired compassion and awareness as they considered how their role and their resources could help meet the needs of others in need.
In addition to this work, Brady '14 completed the remaining portion of a project initiated by the Class of 2013.  They recognized the potential of the prior year's project and the significant progress that had been made.  A select number of seniors who felt passionate about completing the project would focus on this work before returning to focus on the translation services project. 
After winning approval from the City of Evanston, they built a hoop house (temporary greenhouse) to protect garden boxes installed by Brady '13 on Northwestern property.  To pay for the hoop house, they applied for and received a grant from the newly founded Northwestern Sustainability Fund, which sponsors student-led initiatives focused on increasing sustainability and student engagement through environmental projects.  They maintained partnerships formed by the Class of '13 - Wild Roots and New Leaf Urban Garden - and formed a new connection with students from Kellogg in the Agribusiness Club, with whom the space will be shared for planting warm and cool season crops.
The hoop house has been established as a central location for Brady Scholars and other members of the Northwestern community to engage with Evanston residents and youth.
Senior Project 2013
The Brady Class of 2013 dedicated their energies to a project it hopes will provide job opportunities to the marginalized and at-risk youth from Evanston's west side.
The students adopted an economic model of justice. They partnered with the Evanston non-profit organization, New Leaf Urban Gardens (NLUG), which mentors at-risk youth and creates employment opportunities for ex-offenders through urban gardening and farming. The Brady Scholars worked to help NLUG expand its market to include the Northwestern community as a buyer of New Leaf's produce. Students sought approval from NU administrators, who enthusiastically expressed their support. With increased demand for its produce, NLUG will begin to hire more disadvantaged youth from the Evanston community.
Brady Scholars are also working to help NLUG expand its yield. New Leaf Urban Gardens has a single location, which is housed behind the Boocoo Cultural Center in west Evanston. Working with city officials and administrators as well as administrators at NU, Brady Scholars received permission to develop two additional sites to grow fresh fruits and vegetables.
A newly planted fruit tree orchard is now located in Eggelston Park at McCormick Boulevard and Bridge Street in Evanston. Through generous donations from Brady friends, families, faculty and staff, and in partnership with NLUG and members of the Evanston community, Brady Scholars have planted twenty trees to date – apple, pear, plum and peach. Raspberry bushes and hazelnuts were also planted.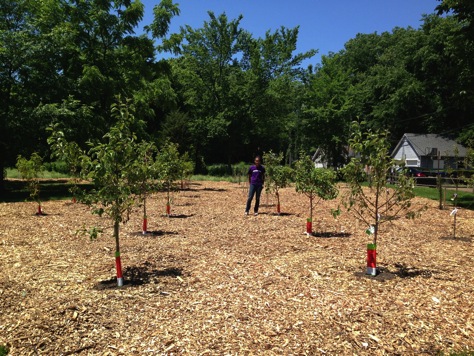 There is now a vegetable garden located on the Northwestern campus behind the Institute for Policy Research at 2046 Sheridan Road. Brady Scholars constructed twelve 2' x 10' garden boxes and filled them with compost and seeds. Beets, lettuce, green beans, and tomatoes were planted. Before the winter of 2013-14, a hoop house (modified greenhouse) will be built.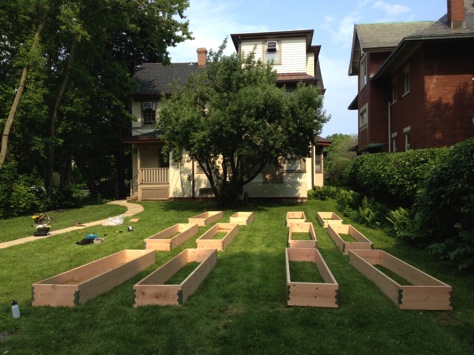 The investment our Brady Class of 2013 has made to the City of Evanston will continue with the support of several student groups on campus. The Brady Class of 2014, Lending for Evanston and Northwestern Development, Northwestern Community Development Corp., Engineers for a Sustainable World, and Environmental Campus Outreach have agreed to sustain this work. Wild Roots has also expressed an interest in partnering with Brady Scholars to expand the Norris garden. The ASG Sustainability Committee is contributing resources to insure the successful implementation of this project.
Good relationships with the citizens of Evanston have been established and will continue to grow as a result of this project. We are confident that future classes of Brady Scholars will sustain them. – Congratulations to Brady '13!
Senior Project 2012
For its senior project, the Class of 2012 tackled a concrete problem related to the often strained relationship between the Evanston and Northwestern Communities. Over the summer of 2011, Evanston Citizens for Environmental Justice approached then Director of the Brady Program, Laurie Zoloth seeking Brady Students' help with the citizen group's Waste Transfer Station campaign. The group's goal is to educate neighbors, the media, and local, state and federal representatives of the damaging effects of the Evanston Veolia Waste Transfer Station, operating one block from Evanston Township High School, across the street from Mason Park, and next door to residential homes.
The Class of 2012 urged the University Administration to make the avoidance of the Veolia Evanston Transfer Station a condition for all future waste management contracts with the region's haulers. They argued that taking this feasible, socially responsible step, the University's relationship with the Evanston community would be greatly improved. It would also demonstrate Northwestern's commitment to environmental sustainability and social justice.
Brady Scholars 2012 White Paper
Senior Project 2011
The Brady Scholars, Class of 2011 perceived a lack of community engagement among Evanston's residents as the central challenge faced by the City. They hypothesized that if citizens became involved in the city governance structure, their voices would be heard and desired changes would be possible. The Scholars focused on getting citizens involved – specifically, the citizens of Evanston's fifth ward, a deteriorating neighborhood on the City's west side.
Brady '11 composed a survey to learn about how these residents saw their neighborhood—its strengths, weaknesses, problems, and solutions. One hundred ten completed surveys were collected from local churches, from a community center, and from polling places on Election Day. The results were clear. Residents felt a lost sense of community, alienation from parks and other public spaces, concerns about idle teens gathered in public spaces, and fear of crime and gangs.
The Brady Scholars also considered the disturbing facts put forth by Evanston Mayor Elizabeth Tisdahl. The city's homicide rate had doubled in just one year. To understand the problem better, Brady Scholars met with Evanston middle school and high school superintendents. Both suggested that engaging young, at-risk students in an academic mentoring program would increase the likelihood that teens will be off the streets, striving toward promising futures that could include college.
Brady '11 proposed such a mentoring program to receptive administrators and faculty at Evanston Township High School (ETHS), who agreed to support the program. ETHS faculty, staff and administrators developed a selection process to choose freshmen from the poor neighborhoods of the fifth ward who were bright, natural leaders, but at risk of dropping out of school. Fourteen students accepted the opportunity to work with Brady seniors.
We organized meetings with ETHS freshmen at a series of three events spread across the month of May—Shadow Day, Leadership Day, and Community Service Day.
Shadow Day introduced the high school freshmen to college life. They followed their Brady mentors through a typical day at NU. They attended classes and lectures, visited residence halls, went to meetings, had meals in dining halls, and observed the structure of campus life. They enjoyed the food, the beauty of the campus, the facilities, and the Brady students. They were not pleased with the "boring lectures", the long walks across a sprawling campus, and the feeling that they didn't belong. They saw "nobody here like me".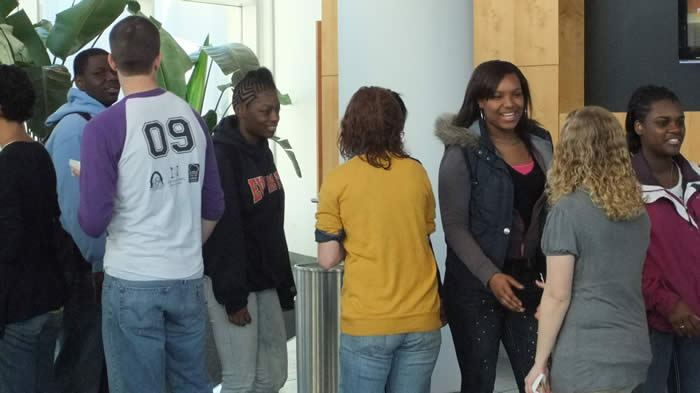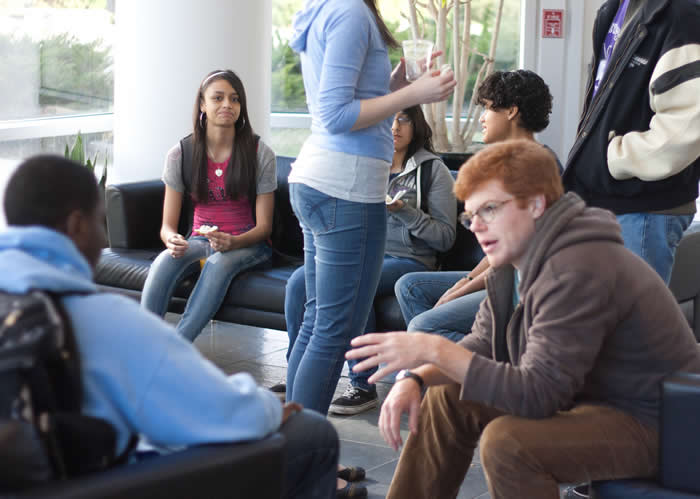 Brady Scholars were surprised at the centrality of race and class among the students—not only the divisions between the young students and the Brady Scholars, but between the Hispanic and Black students in the small, promising group of freshman from ETHS. This discovery shaped the activities the Scholars planned for the second visit to campus. They saw an opportunity to show the high school freshmen that one can lead in spite of adversity and division.
The agenda for Leadership Day was full. NU Football Coach, Pat Fitzgerald, delivered an inspirational talk that won the attention and respect of the high school freshmen. They participated in an open discussion about violence in their community, which centered on the recent news of an ETHS student who was shot by a peer not far from school. There was vivid debate about right and wrong, and good and bad, as they tried to understand the tragic reality. A theatrical exercise followed, providing a forum for students to express their feelings through short, non-verbal vignettes about the shooting case. Lastly, a panel discussion on Minority and Leadership completed the day's program. Panelists included longtime Evanston resident and Alderman of the Fifth Ward, Delores Holmes, Father John Kartje, Chaplain of NU's Sheil Catholic Center, and two prominent NU student leaders from the Hispanic and African American communities. Exhausted, the students left feeling more at home on the college campus, with much to ponder.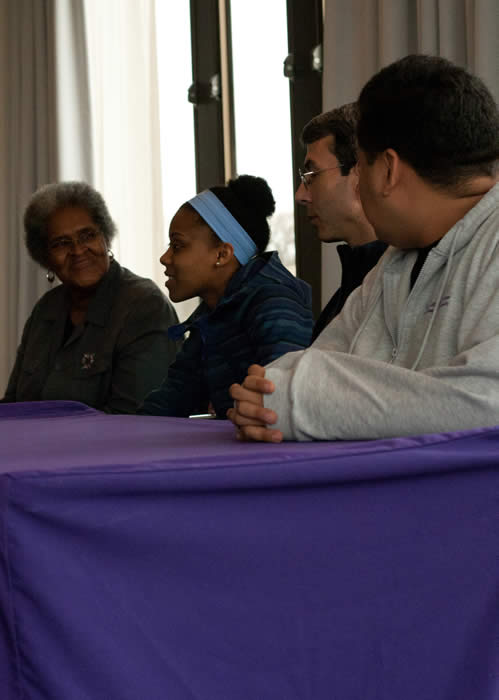 Alongside Brady Scholars, students completed projects at four sites: two Evanston parks where eleven trees were planted; New Leaf Urban Gardens/Boocoo Cultural Center, where they worked in the community garden and set up a library wall of donated books; and at Family Focus, a free store stocked with donated clothes for the poor. After a full day's work, they returned to campus for a closing ceremony where they received certificates, congratulations, and a challenge from Mayor Tisdahl and President Schapiro. They were encouraged to set high goals, continue to serve their community, and apply for admission to Northwestern University, Class of 2018.
The Brady Class of 2011 made a difference in the lives of fourteen children, and in their own. Debbie Brady, a Weinberg College alumna who established this Program, is hopeful about this and future projects of our Scholars. "Until the students have had the real life experience of living out their values, and of leading and influencing others, it will be impossible to judge it a success. The program is not about education, but about the influence that education can have on future behaviors."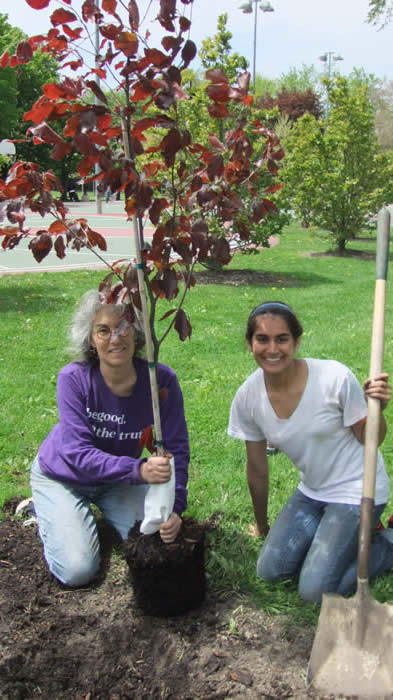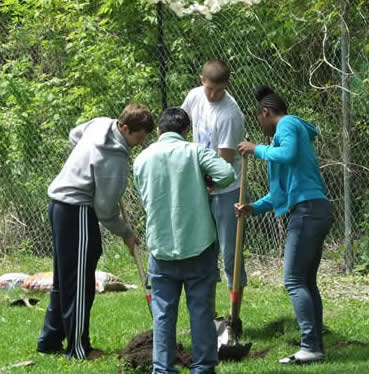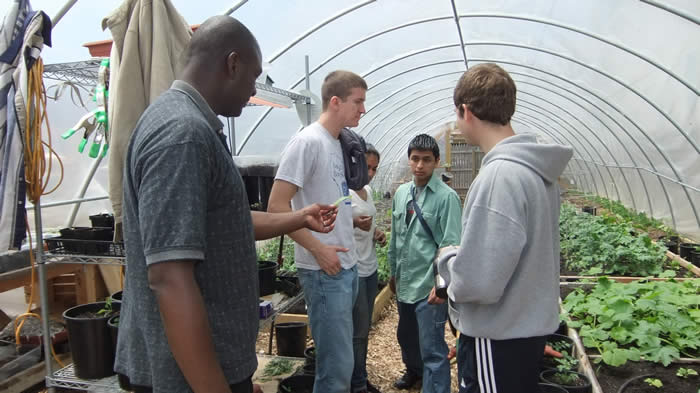 Back to top